WOMEN-RUN ORGANIZATIONS TAKE THE LEAD IN CELEBRATING "NATIONAL CONSTITUTION AND CITIZENSHIP DAY" WITH EVENTS AROUND THE COUNTRY

Feed Our Democracy and its partners are turning the little-known annual holiday into a National #DayOfAction on September 17th
NEW YORK, NY – SEPTEMBER 19, 2019 – Hundreds of people around the country gathered Tuesday to celebrate a holiday they'd probably never heard of before: National Constitution and Citizenship Day. To honor the day, Feed Our Democracy, a small grassroot organization headquartered in NYC, partnered with women-owned businesses around the country to host civic-minded events centered around voter registration and helping refugee families.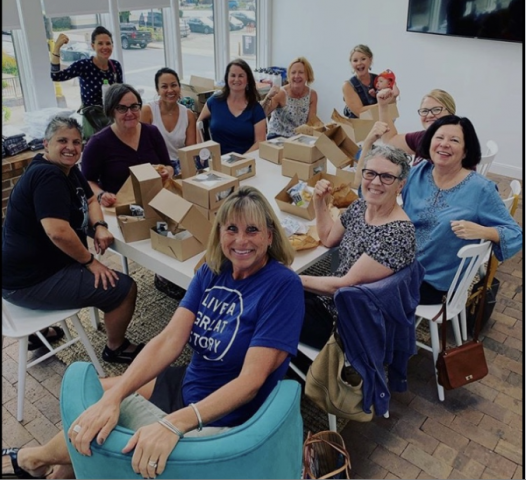 "Every year, National Constitution and Citizenship Day goes unnoticed," said Nancy Friedman, one of the co-founders of Feed Our Democracy. "We wanted to change that."
In Los Angeles, Austin, Minneapolis, Denver, Portland and Seattle, Feed Our Democracy partnered with The Riveter, a women-owned gender-inclusive community and co-working space, to host events where attendees participated in either non-partisan Voter Registration Training sessions led by local League of Women Voters volunteers and Register2vote.org, or events designed to help recently admitted refugee families, including assembling welcome kits and writing postcards to welcome refugees and their families.
"The Riveter is here to make equity of opportunity a reality. It's core to our mission that we provide resources, network, and tools for the political engagement of women, the same way we offer resources, network and tools for the professional advancement of women," explains founder and CEO Amy Nelson. "Feed Our Democracy's #DayofAction activations were a perfect fit. When they approached us about participating, we said yes right away."
In Brooklyn, TueNight, a dynamic platform for busy, influential, women over 40, co-hosted an evening of storytelling and community action, with proceeds going to Hello Neighbor, a Pittsburgh-based non-profit that helps recently resettled refugee families. Storytellers shared their immigration and citizenship stories and guests wrote welcome cards to help families. The event, held at Industrious, a world-class workspace for companies large and small in 45 cities around the country.
Mom 2.0, the premier national gathering of social media influencers, joined the #DayofAction as well, publicizing the event through its vast network of connected social media influencers around the country.
"Our hope is that this is only the first of many annual celebrations of this important day that celebrates the best of our country: our Constitution and our Citizens," said Isabel Kallman, another Feed Our Democracy co-founder. "Next year, we hope it will be even bigger and better."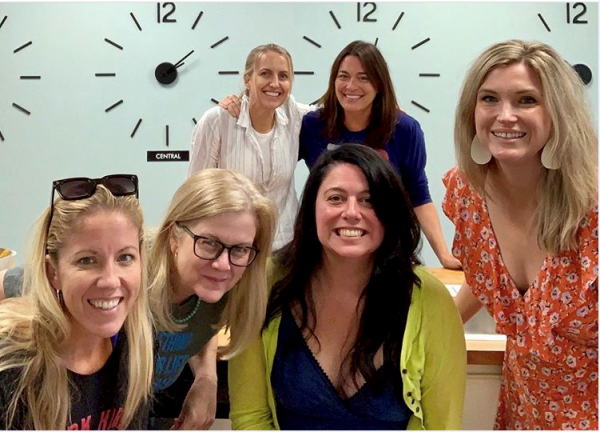 Additional sponsors for the events include The Ruth Ann Harnisch Foundation, R&D Foods, Hint Water, Neil Kramer, My Financial Planner, Secret Agent Josephine, and To The Market. Additional organizations involved in the events included Amy Poehler's Smart Girls, Blue Action Democrats, Blue Lotus Collective, Greeblehaus, Map the Vote, Register2Vote, and Waking Giants.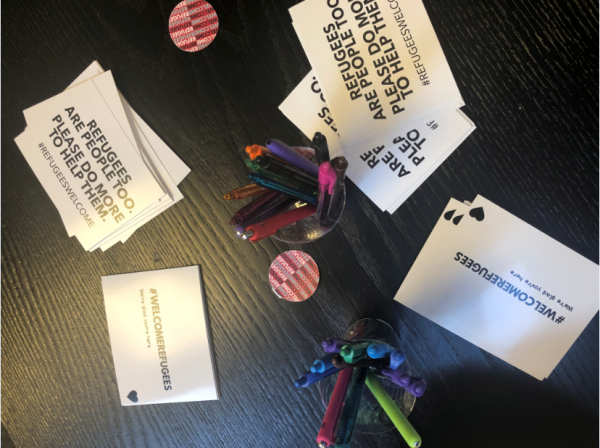 ABOUT
Feed Our Democracy is a public benefit corporation (PBC), founded in January 2017, dedicated to the notion that the backbone of any democracy is an active citizenry. Whether native born, naturalized, or self-identified, we believe it is every citizen's duty to uphold the democratic ideals of freedom, justice, and equality. Our goal is to offer the inspiration and information necessary to turn each of us into citizen activists — one event at a time. We encourage people to expand their communities and uphold their ideals as they Meet, Eat and Activate, and we provide them the tools to do so with downloadable toolkits surrounding important issues.
The Riveter is a national network for women in work. Through best-in-class events and programming, flexible memberships, and beautiful, collaborative workspaces, The Riveter is working to champion and elevate the conversation about diversity, equity and inclusion in work and in business.
Mom 2.0 is the premiere professional conference and gathering of influencers who create content online and on air in parenting, entertainment, food, politics, business, marketing, technology, social change, travel and design. Every year, women leaders in media and business converge at the Summit to forecast what's next for women online and in the marketplace. Throughout the year, Mom 2.0 features educational programs, social gatherings, inspiration and communications, through events, video, newsletters, blogs and a variety of social media.
Tue Night is a dynamic platform for busy, influential, women over 40. Their vibrant community includes women in that midlife pivot, at the top of their game. TueNight hosts intimate storytelling events that draw an audience of 80-120 engaged, women.Their newsletter was named by Forbes as a "Top 10 Newsletter to help women thrive. In 2019."
Media Contact
Company Name: Feed our Democracy
Contact Person: Nancy Friedman
Email: Send Email
Phone: 212 579 9171
Country: United States
Website: www.FeedOurDemocracy.com