REALD and Harkness announce new partnership on Precision White Technology (PWT)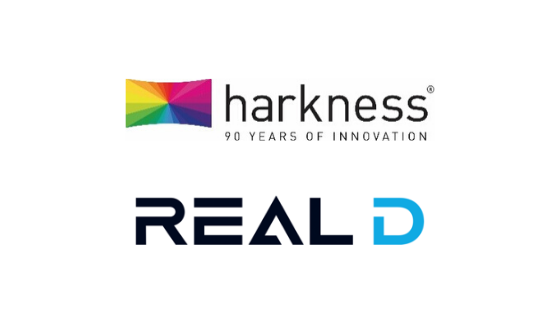 RealD and Harkness Screens today announce the widening availability of their Precision White Technology (PWT) screens.
The revolutionary screens, which are produced in an exclusive partnership between the two companies, have a scientifically engineered surface technology that delivers incredible content in both 2D and 3D formats.
This creates a smooth texture, precise image all from a screen which appears white. Now, for the first time, these incredible 1.4 and 2.0 gain PWT screens will be made available to all cinema operators globally.
Travis Reid, Chief Operating Officer of RealD said, "We have a long and valued partnership with Harkness Screens and are delighted to be able to announce today this latest development in our relationship with them."
Mark Ashcroft, CEO of Harkness Screens said, "PWT is a wonderful piece of technology which is perfect for a wide range of auditoria and I am excited to be able to include it as part of our portfolio available to all Harkness' customers. We work hard to find the right solution for all of our commercial partners, and in conjunction with RealD, we believe that PWT helps us take another step to achieving this goal."
If you are interested in speaking to a Harkness representative, to discuss how PWT screens could benefit your cinema, please contact Tony Dilley on [email protected]
For more information on how the PWT screen could benefit your cinema, visit the Harkness Screens web page at www.harkness-screens.com
Media Contact
Company Name: Harkness Screens
Contact Person: Joe Harvey
Email: Send Email
Phone: +44 (0)1438 725 200
Address:Unit A, Norton Road
City: Stevenage
State: Hertfordshire
Country: United Kingdom
Website: www.harkness.co