Actor Raymond Bagatsing and Radhaa Nilia Donate Thousands of Meals to Cushion Effects of COVID-19 in the Philippines
Maharlika Ambassador and star of the international award-winning movie "Quezon's Game", Raymond Bagatsing along with Author Radhaa Nilia and volunteers had been distributing vegetarian food throughout the pandemic. This service started on May 7th and throughout the pandemic in the Philippines. More than 1,000 individuals had benefited from the feedings. This humanitarian gesture in the difficult time of COVID-19 is made possible through volunteers and in-kind cooperation of Barangay Council.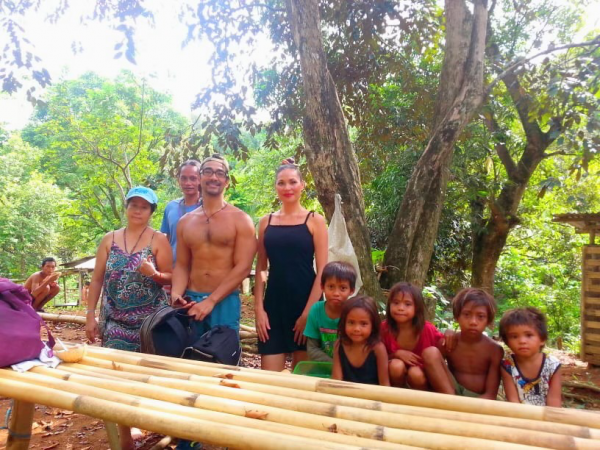 Raymond Bagatsing, Radhaa Nilia, and volunteers feed rural communities.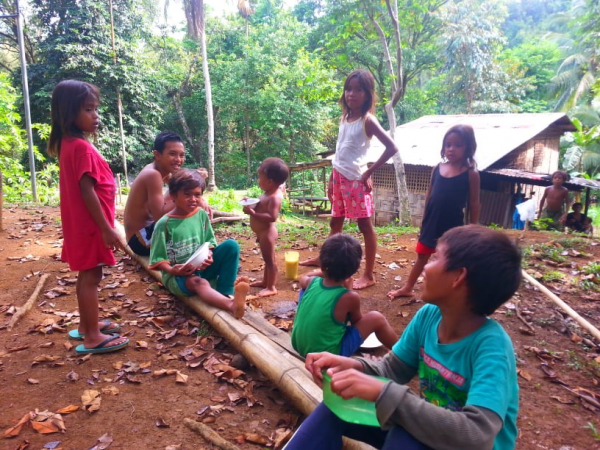 Maharlika is also thankful to FFN (Filipino Family Network) for the Day Care Kitchen project that had been utilized for cooking vegetarian food for boosting the immune system and to fight against harmful viruses.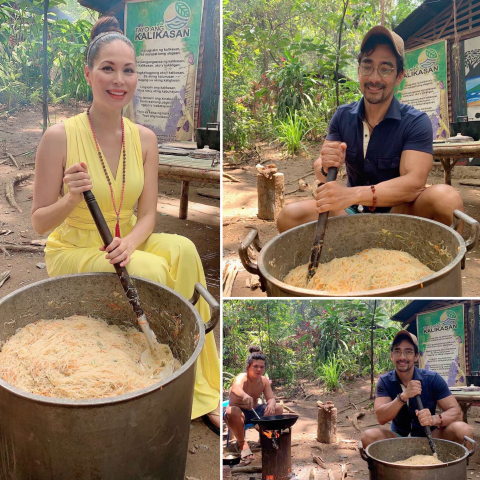 Radhaa Nilia and Raymond Bagatsing cooking vegetarian food for families.
Raymond Bagatsing's body of work as an actor in the Philippines is impressive. Raymond received international recognition for his work in Quezon Game in which he went on to win the best actor at Cinema World Fest AUTUMN Awards in Ottawa, Canada. Raymond also received the best actor at California Indie Film Festival for his portrayal of President Quezon.
"Raymond Bagatsing is a seasoned Filipino actor starring in both television and films. In Quezon's Game, he plays the titular role of Filipino President Manuel "Manny" L. Quezon. New York Times described his performance as "sincere, [and] rousing." While the Hollywood Reporter calls Bagatsing "charismatic" as he "delivers a nuanced, compelling turn in the titular role."
Raymond can be seen on Amazon's hit series, Almost Paradise. A new hit show created by writer, producer Dean Devlin. Raymond plays agent Rabara in episode six which can be found on Amazon Prime. Raymond, besides being a talented actor, is an avid humanitarian. Both Raymond and Radhaa sponsored and served at the mass feeding events along with the Maharlika volunteers. This is not the first time Raymond has contributed to humanitarian projects. Raymond also supported and sponsored a preparatory school based on yoga philosophy for over five years. Raymond Bagatsing and Radhaa Nilia both believe in giving back to the community through arts, education, and mentorship. In addition, Raymond and Radhaa are working on a documentary called Maharlika, in order to educate and inspire the remembrance of pre-colonization culture in the Philippines.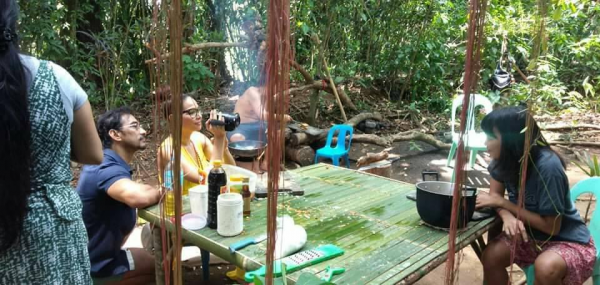 Raymond Bagatsing and Radhaa Nilia interviewing volunteers between cooking duties.
Radhaa Nilia is known for her work as an author and publisher and producer. Radhaa is the author of "Memoirs of a Galactic Goddes and "Quan Yin Goddess Activations." The curator of the ongoing collaborative book series: "Awakening Starseeds" through Radhaa Publishing House. With a background in entertainment and media, Radhaa is an award-winning actress, director, and indie filmmaker. The duo teamed up in co-directing a documentary about the pre-colonial Philippines with a working title, Maharlika; In Search of our Identity.
Raymond and Radhaa continue to serve these rural communities. Their next trip will be in bringing English and Tagalog coloring books for kids. Reading to the children and giving away books to help kids learn to read in both languages. To get involved in these humanitarian projects, donate food, books, or volunteer, contact Maharlika Paradise founder Deo Palma – Phone: 09273175265. Email: [email protected]
Media Contact
Company Name: LNG Promotions
Contact Person: Raziel Arcega
Email: Send Email
Phone: 714-349-2884
Country: United States
Website: lnrpromotions.com