Space Age Thriller "Dragon Eye Chronicles Book 3: The Generation" Concludes the Inter-Galactic Paradox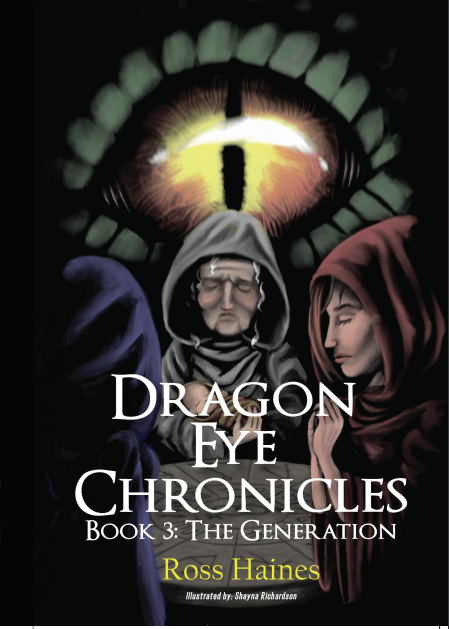 Ross Haines is back with the third in the Dragon Eye series, a futuristic space-age thriller. Titled "Dragon Eye Chronicles Book 3" The Generation," the work carries forward the next stage in the inter-galactic war across the Milky Way, with Titans and Cyborgs battling it out against Mrs. Nightshade and the entity.
A group of humans is trapped in another solar system ruled by advanced aliens with powers that can alter humanity. The outcome is the rise of another race that wants to control all 12 galaxies. Mrs. Nightshade, in her rescue attempt for the humans, makes a mistake, bringing about destruction and altering of time caused by entry into the vortex. Then begins a never-ending Paradox in the 12 galaxies. Only a few make the heroic attempt to restore things to their simple beginnings from the parents to the children.
"This book is the conclusion of earth's final existence by the family of Nightshade to fall further in the back in the vortex time that restarts all existence through the seven worlds of E space," says Ross.
For those unfamiliar with the series's storyline, the first book begins when a message from the past arrives by two human hybrids, which starts the paradox. The human hybrids follow the orders of an advanced alien race. In the second book, we see the earth defense force, Titans battle force, and Cyborg battle group form an alliance to fight Mrs. Nightshade and the entity in the Milky Way. Only Major Paterson and his wife Maggie Redkill, plus her six children, have the true knowledge to save the Milky Way and Glise 57 galaxies from destruction.
Author Ross Haines began to write at the age of ten. Since then, he has been writing poetry and short stories. The current three-part series owes its inception to a request from his daughter for her own story and a big adventure. The Dragon Eye chronicles were thus written.
Media Contact
Company Name: Global Summit House
Contact Person: Anna Reid
Email: Send Email
Country: United States
Website: www.globalsummithouse.com