SolRazr – The First Decentralized Developer Ecosystem for Solana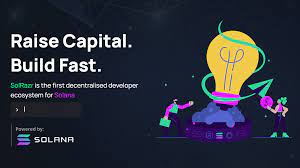 Designed to be the de-facto fundraising and developer platform for projects building on Solana, SolRazr aims to support the growth of decentralized finance (DeFi) on the high-performance network.
SolRazr offers Launchpad, Accelerator, and Developer Tools as the first decentralized developer ecosystem for Solana.
Solana is the fastest growing blockchain, with key platforms like Serum, Raydium, and many DeFi protocols being built on it. SolRazr will enhance the adoption of the Solana network by helping developers and projects raise capital and build fast.
Aiming to support the growth of Decentralized Finance (DeFi), Non-Fungible Tokens (NFTs), and web3 applications that can scale, SolRazr is designed to be the go-to fundraising and developer platform for projects built on Solana.
The same way decentralized exchanges revolutionized crypto assets trading, in 2021, decentralized launchpads revolutionized crypto fund-raising.
Millions of retail investors can participate in the fund-raising with just a wallet, and projects can raise capital with less friction and barriers.
Read more: SolRazr 2021 in Review
SolRazr is rethinking the way launchpads fairly allocate resources to retail investors.
Not only attempting to conduct fair launches through lotteries and ticketing systems like other launchpads, but SolRazr has also found an additional fair solution to do launches – Through tokenized allocations by leveraging the power of NFTs.
SolRazr is focused on solving the growing challenges projects & developers face today. The platform provides the ability to raise capital at lightning speeds in a truly decentralized manner and helps them forge strong communities for long-term support.
To help projects raise capital, SolRazr also provides access to a host of developer tools to help them build fast on Solana and go to market early.
Among the key features of the platform it is worth highlighting:
Tradable Allocations: A new way of token sale whitelists and allocations by leveraging the power of NFTs on Solana.
Accelerator: Under the Accelerator program participants will incubate projects, help with go-to-market strategy and provide tools to build fast on Solana.
Developer Tools: Helping project developers build fast and launch faster by automating token infrastructure deployment on Solana.
Cross-chain Pools: Built on Solana wormholes, cross-chain pools allow communities from other chains to invest directly into Solana projects.
Visit the official website to learn more about the project: https://solrazr.com/
Media Contact
Company Name: NewTribe Capital
Contact Person: Viivek Mehata
Email: Send Email
Phone: +91 8668454982
Address:AstroLabs Dubai, Parkside Retail Level Cluster R, Jumeirah Lakes Towers
City: Dubai
Country: United Arab Emirates
Website: www.newtribe.capital