Influential Real Estate Developer, Michael Britt known as Officiallilmike secures multi-million dollar deal approval for Norfolk, Virginia's Sycamore Plaza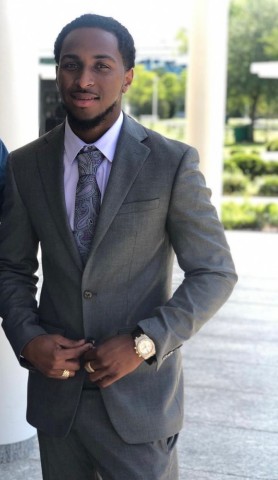 Successful entrepreneur Michael Britt is elated to announce his firm has succeeded in getting Norfolk's new Multi-million-dollar development plans approved.
Michael, together with his mentor, Laushaun Robinson; owner of DT Builders got the development plans approved and even obtained a multi-million dollar loan for the development despite receiving no grants or funding from the city of Norfolk.
This will be the first black owned minority project of this statute, in Norfolk, Virginia. Sycamore Plaza will be a mixed-use development with 30,000 square feet of retail space and over 100 residential dwelling units. It will be situated at the northwest corner of the intersection of E. Indian River Road and Wilson Road in the Campostella neighborhood.
The plaza will consist of:
Building A (3 stories)
○ 14,700 sq. ft. commercial (retail sales and service, eating and drinking uses).
○ 25 residential units above the commercial spaces.
● Building B (3 stories):
○ 9,000 sq. ft. (child day care center).
○ 16 residential units above the commercial space.
○ Playground to be shared between the day care center and residents of the entire
development.
● Building C:
○ 5,500 sq. ft. with 15 residential units.
● Building D:
○ 2,400 sq. ft. retail and restaurant.
There are ten things to do when looking for a Real Estate Developer. Calling Michael is one; He'll handle the remaining nine. The best real estate developers in the business have a knack for anticipating their clients' needs and matching those needs with the right piece of real estate. It's a strategy Michael has developed in his flourishing career in real estate development.
Michael has never lost sight of his dreams and manages to stay focused even while being incarcerated on marijuana related charges, he still gives all the thanks to God in everything he does. He is often asked how he does it even with facing certain challenges, he answers "my body may be confined but that doesn't mean your mind has to be, I can and will always pursue my dreams and be the man God called me to be by trusting in him in the process" Michael also states "that even when you make mistakes to do everything you can and trust God to do what you cant. The key to success "Instead of always looking for a blessing first be the blessing that God needs for someone else."
Michael has pulled all his resources for a successful completion of such a major project as this. Even during his incarceration, in addition to sycamore, he has constructed and repaired many homes in various areas throughout the Hampton Roads region. It's a winning mentality that has allowed him to excel in many endeavors and projects within his community.
Media Contact
Company Name: Stalwart Investment
Contact Person: Media Relations
Email: Send Email
Country: United States
Website: https://instagram.com/officiallilmike