360 Digitizing Solutions: Get Any Left Chest Logo, Cap 3D Puff or Jacket Back Logo Digitizing Of Up To 60,000 Stitches At Affordable Price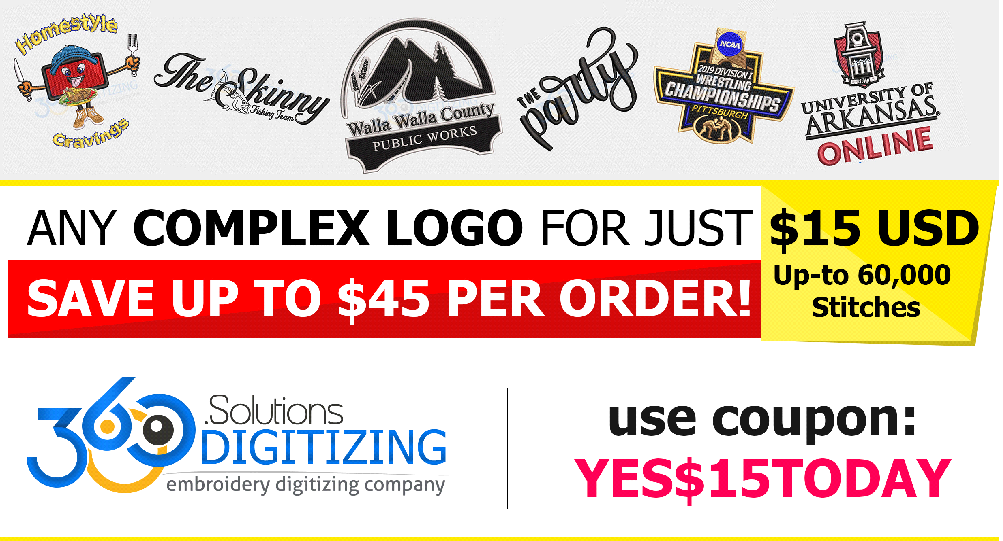 Get Any Left Chest Logo, Cap 3D Puff or Jacket Back Logo Digitizing For Just $15 USD
LOGO DIGITIZING COUPON: YES$15TODAY
360 Digitizing Solutions, a leading provider of custom embroidery digitizing services, now offers a discount for logo embroidery digitizing. The promo affords people to get Chest Logo, Cap 3D Puff or Jacket Back Logo Digitizing of up-to 60,000 stitches for just $15.
Embroidery digitizing is the art of using a computer to convert artwork into data that is recognizable by an embroidery machine, so the machine knows how to stitch out the design. 360 Digitizing Solutions possess the latest in embroidery digitizing technology and equipment with the proven skills of accomplished commercial artists, designers, digitizer, embroiderers which provides the highest quality Embroidery Digitizing Designs and embroidery digitizing in the industry with fast turnaround.
360 Digitizing Solutions have unmatched skill in creating custom embroidery designs for customers from diverse industries. Features that set 360 Digitizing Solutions apart from others are:
Unlimited revisions for 30 days
100% satisfaction guarantee
1 year files backup
Secure & easy client dashboard panel
24 hours, 7 days a week customer support on live chat
Quality assured service guarantee
Secure payment method (pay directly on PayPal)
All major credit or debit card accepted
No payment details required
Free registration
Free estimate / quotations
Lowest price for the best quality
All files format accepted (ai, eps, PSD, jpg, gif, png, pdf and more)
360 Digitizing Solutions custom Logo Digitizing for uniforms and other materials have helped their customers in establishing a special identity of them. Having the best amount of experience in the embroidery digitizing industry, 360 Digitizing Solutions takes the time to listen to their clients. Hence, offering a massive discount for Logo Digitizing services. Customers that want to enjoy this limited-time offer just need to follow the 3 simple steps below.
1. LOGIN OR REGISTER YOUR ACCOUNT – If you are already registered, Simply Login OR if you are new, Register to their secure and easy client dashboard Panel at https://client.360digitizing.solutions
2. PLACE YOUR ORDER – From your client Dashboard Panel, Click Place an Order and fill up the details of your order with simple three steps form and place your order with your artwork and the coupon code: #Yes$15Today.
3. DOWNLOAD YOUR DIGITIZED DESIGN – 360 Digitizing Solutions will digitize your order and notify you through email once the design is ready within the given turnaround time. Check the proof of digitized design and pay for your design using your credit card, debit card OR PayPal using their secure payment system.
Hurry up and visit https://client.360digitizing.solutions to enjoy the discount before it closes. Time waits for nobody!
Media Contact
Company Name: 360 Digitizing Solutions
Contact Person: Christina
Email: Send Email
Phone: +1 (309) 329-3400
Address:220 US-46 suite 101
City: Little Ferry
State: NJ 07643
Country: United States
Website: https://360digitizingsolutions.com