Business Coach Rina Slusnyte to Launch Ebook Library with a Mission to Provide Marketing Education Available for Everyone
Starting an online business and running it is a challenge. The world of entrepreneurship includes a wide variety of increasingly irritating tasks, constantly changing algorithms. People have decisions have to make every day, today's savvy and demanding customer, unseen, never experienced workload and huge competition.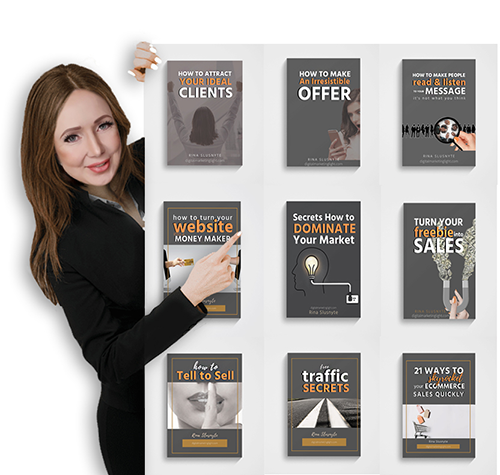 While running one's adventure and craft favorite lifestyle may feel like a dream compared to nine-to five work, lots of entrepreneurs will acknowledge, that they ended up working more, sleeping less and having no social life for the first few years. The rules of the business world suddenly may cost more than one ever thought. Contradicting information, pool of podcasts, events, webinars, blogs, video tutorials-it is so overwhelming. Business people are afraid to say "no", feel squeezed, make quick and survival decisions. Yes, then one goes from a great first salary to… burning through their savings.
Then one will realize that entrepreneurship eats up one's life.
Business Coach and founder of https://digitalmarketinglight.com Rina Slusnyte has launched an online shop with a mission to provide affordable marketing education for everyone.
Rina has helped her clients reach a number of accomplishments, including generating over six figures in sales in less than a year and hitting their first $10k within 30 days of launching. Everything from turning a passion into a profit.
Having built multiple successful business empires, and impacting lives, Rina's goal is to show all the tactics, tools and strategies that work today. To uncover secrets, that multi-million-dollar companies use to build thriving businesses.
Rina Slusnyte strives to make the business world less stressful and more enjoyable, so one can work at home and design the life of his/her dreams.
Rina Slusnyte is one of the Business Coaches, leading the way in the Online Marketing industry.
With the right direction and guidance, people can fast-track their online success. Rina has put her experience of over 16 years in eBooks, that cover all the pieces, that make up a successful Business. She understands that not everyone has equal opportunities for education. And today, with a global pandemic at hand and more people out of jobs, digital education is needed more than ever before. Today, more than ever before, more people are setting up their businesses and more people than ever before dream to pack their knowledge and sell and… more people than ever before looking to learn new skills or are looking to upgrade their knowledge.
But… there are millions of reasons why any business can go wrong.
Business Coach Rina says, that "a Successful Business is like baking a cake. You need to know the ingredients and the recipe. If you miss one piece, you are not going to achieve long term results. To build successful and sustainable Business, you need to have a strong foundation: the lead generation and nurturing system, marketing strategies, that would wipe off your competition and tools, that would enhance your business capabilities." Rina has put her vast knowledge and experience in her e-books that cover main business success pillars, needed to achieve one's business goals.
Rina doesn't believe in overnight success (unless it is a lottery), but says "when you have the tools, the tried and tested system and adding a bit of automation, you can scale to six figures and beyond without working around the clock."
Her dynamic approach helps to start, build, and scale an online business. Do not be a wantrepreneur. If one has a fire inside for his/her own online business, then one should go and discover a life-changing e-book library, that will result in a full-life upgrade.
Media Contact
Company Name: Digital Marketing Light
Contact Person: Rina Slusnyte
Email: Send Email
City: Dublin
Country: Ireland
Website: https://digitalmarketinglight.com/