Tracup AI: The Ultimate Solution for Effortless Content Creation and Productivity
Tracup AI is the latest AI-powered platform designed to unlock your creativity and boost your productivity. With automated ideation, summarization, and writing tools available for free without any limits, Tracup AI can transform your writing speed from hours to seconds. Whether you need to create an email, generate a blog post, or conquer writer's block, Tracup AI has got you covered.
Video Link: https://www.youtube.com/embed/Tmd_T13FN6M
Foster Creativity with Tracup AI
Collaborating with Tracup AI is like having a personal assistant who generates your next big idea while keeping your strategy under wraps with a confidentiality guarantee. With personalized guidance, Tracup AI helps you bring your ideas to fruition with clarity, brevity, and persuasion.
Less Reading, More Creating
Extracting action items and valuable insights from meeting notes can be a daunting task. With Tracup AI, you can skip lengthy summaries and get all the information you need in a quick and efficient manner. Tracup AI's Summaries feature allows you to sum up in seconds, not in hours.
Empower Productivity with Tracup AI
Tracup AI can transform your writing with a CEO's finesse, correcting spelling and grammar errors and editing your voice and tone to impress with expert finesse. You can also simplify technical language with ease, making your writing more understandable, without the need for a dictionary. Tracup AI can improve your language skills, making your document communication astute. If you suffer from writer's block, Tracup AI can help you think bigger and write the first draft to amplify your ideas.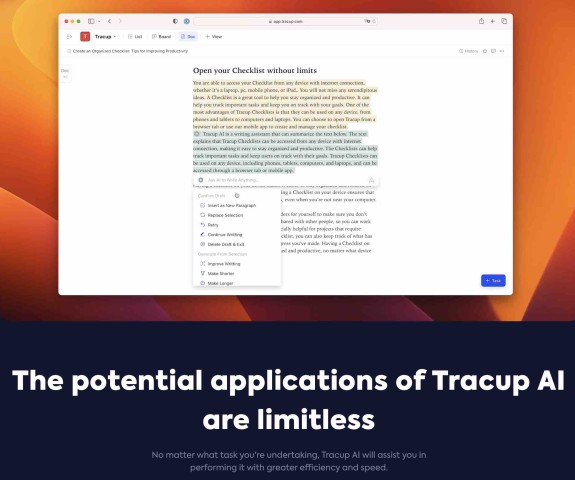 Why Choose Tracup AI?
While ChatGPT is great for simple questions and chatting, Tracup AI is the best choice for those who want to train their own prompt library, collaborate effectively with their team, integrate knowledge base, projects, workflows, and AI assistants in one system, and deliver documents, papers, reports, assignments, thesis, or even blogs with SEO optimization. Tracup AI can be your own external brain that understands you, your thoughts, your flashes of inspiration, your work, your tasks, your projects, your goals, and your knowledge flow.
How Does Tracup AI Keep Free?
Unlike other platforms, Tracup AI offers unlimited basic features like the number of users, tasks, and projects for free. Tracup AI believes that every team should have access to their data without having to pay a fortune. Tracup AI plans to introduce paid plans that will have additional non-essential features aimed toward professionals. Tracup AI never sells or shares any data with anyone, making it a reliable platform for privacy-conscious users.

Takeaway Summary:
Tracup AI is an AI-powered platform for effortless content creation and productivity.
It offers automated ideation, summarization, and writing tools that make creating content effortless.
Tracup AI simplifies the technical language, corrects spelling and grammar, and provides personalized guidance.
It is an excellent choice for knowledge workers, professionals, entrepreneurs, students, professors, researchers, and freelancers.
Tracup AI offers unlimited docs, tasks, projects, and fair use forever for free without compromising on privacy.
It plans to introduce paid plans with additional non-essential features aimed towards professionals.
To learn more or to use Tracup AI for free, visit https://www.tracup.com/ai .
Media Contact
Company Name: Tracup
Contact Person: Jon W
Email: Send Email
Country: Singapore
Website: https://www.tracup.com