First Inscribed LlamaZ collection on Ordinals Announced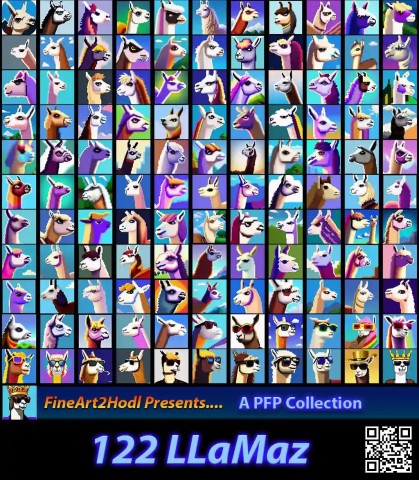 The upcoming release of the 122 Bitcoin LLaMaZ collection is set to bring more excitement to the world of NFTs. Created by a team of expert NFT marketers and artists, this collection consists of 122 unique llamas, each with its own distinct appearance and personality.
What sets this collection apart is its high-quality art, the uniqueness of each llama, and its early inscription on the bitcoin blockchain between inscription numbers 10857 and 11275. By inscribing the collection early to the blockchain, the llamas are not only unique works of art but also valuable digital assets.
The collection's name, LLaMaZ, is a play on words and a tribute to 90s gaming culture. Each of the 122 llamas has its own backstory and personality, rendered in intricate detail with vibrant colors that make them stand out from other NFT collections.
"We wanted to create something that is both innovative and unique but also fun and nostalgic," said a 122 Bitcoin LLaMaZ team spokesperson. "We understand the importance of creating collections that are not only beautiful and engaging but also have lasting value."
The 122 Bitcoin LLaMaZ collection is expected to be one of the most popular NFT collections of the year. Its early inscription on the bitcoin blockchain, high-quality art, and unique llamas make it a valuable asset for years to come.
For more information on the 122 Bitcoin LLaMaZ collection, please visit the official website at www.fineart2hodl.com
Media Contact
Company Name: FineArt2Hodl
Contact Person: Admin
Email: Send Email
City: New York
State: NY
Country: United States
Website: fineart2hodl.com