Acts of Kindness Launches Kickstarter Campaign to Provide 700 Million People with Access to Clean Drinking Water
The organization is looking to solve the global challenge of access to clean water by supplying people around the world with its Natural Spring and Special Flavored waters
According to the World Health Organization (WHO), 1 out of 3 people globally do not have access to clean, safe drinking water. The study showed that Millions of people continue to suffer from poor access to water, sanitation, and hygiene. In an effort to rewrite this narrative, Stamina Enterprises, LLC has created an Acts of Kindness Water Kickstarter campaign aimed at providing people around the world with access to clean water.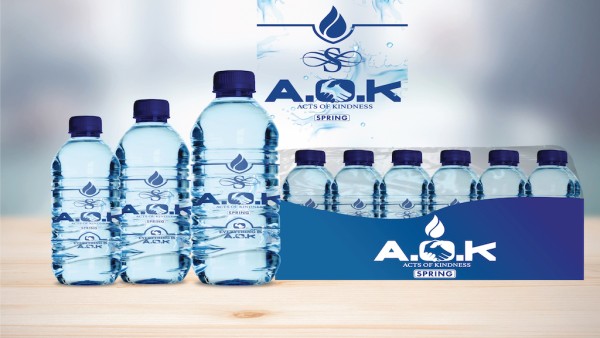 Acts of Kindness (A.O.K) is saddled with the goal of supplying the World with its Natural Spring water as well as its Special Flavored Waters that are being engineered by One of the top flavoring companies in the United States. "We never know the value of water until the well is dry," explains Derek Anderson, Founder of Acts of Kindness and NCAA and NBA Champion." Hence, it is important for us to protect our water with a drop of kindness.
The mission to provide clean water to underserved people around the world is an enormous vision and Acts of Kindness is using the Kickstarter campaign to appeal to well-meaning individuals, companies, and organizations to support its cause.
"Our mission is to bring kind people together by providing healthy drinking water and generating funds to improve access to clean water in rural areas," continued Derek Anderson. "We will also show our AOK supporters how and where their AOK is going so they can see the impact of their kindness."
For more information about the Acts of Kindness' Kickstarter campaign and how to make donations, visit https://www.kickstarter.com/projects/aokwater/kindness-in-every-drop and/or send an email to [email protected].
About Derek Anderson
Derek Anderson, NCAA and NBA Champion graduated from the University of Kentucky with a degree in Psychology. He is an International Public Speaker and his book, Stamina is an Amazon #1 Best Seller. Over the last 20 years, he has successfully owned and operated various global businesses; including hotel villas, retail franchises, restaurant chains, and the Stamina Foundation. Awarded the United Nations humanitarian award, his philanthropic efforts have led him to continue his work empowering youth through college scholarships and life-skills job training.
Media Contact
Company Name: Acts of Kindness Water
Contact Person: Jamie Warfield
Email: Send Email
Country: United States
Website: https://www.kickstarter.com/projects/aokwater/kindness-in-every-drop