New book "Repo Madness" by M.E. Tuthill is released, an irreverent, scathing critique that exposes the American financial system and the nefarious practices of shadow banking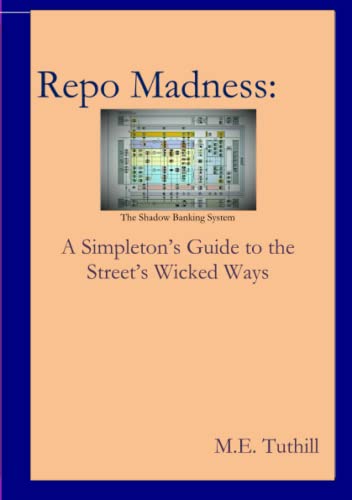 "Repo Madness: A Simpleton's Guide to the Street's Wicked Ways" by M.E. Tuthill has been released worldwide. This 149-page deep dive into the troubling reality of modern finance pulls back the layers of complexity to present an uncomfortable truth: the modern financial system doesn't benefit the people, and those in power have known all along.
With humor, candor, and a variety of reputable sources, Tuthill untangles the numerous, interconnected ways that big finance serves itself, often at the expense of the citizens driving the economy, placing particular attention to the repurchase (repo) industry and the practices of shadow banking.
With a background as a financial writer, the author has been examining these issues since 2007. Following a gut feeling that something was terribly wrong with the American and global finance systems, she began digging into the confusing claims she encountered in interviews, unpacking the implications of government actions, and gathering evidence of the widespread influence of repo transactions and shadow banking.
Mary Fricker, founder of the award-winning website repowatch.org and co-author of "Inside Job: The Looting of America's Savings & Loans" calls the book "absolutely amazing."
She continues, "Nobody knows better than I do how much work had to go into this, to get a cogent story from the chaos out there… So many sources. You did a ton of reading, and a lot of that reading wasn't easy to find. Now your readers have it at their fingertips. So cool. And together these sources sure make a compelling case."
Tuthill expertly distills confusing financial terms into language for the layman without sacrificing detail and specificity. The book is a launchpad for a deeper understanding of this long, sordid history, and exposes parts of the financial system that most people have never heard of. By pulling back the intentionally opaque curtain, Tuthill aims to educate readers and inspire them to action.
By exposing and examining the issues surrounding repo and shadow banking, the author shines an important light on the financial system as a whole. The information contained here will forever change the way readers think about economics, government, and the ways big money keeps itself hidden from public view.
Repo Madness (ISBN: 9781387419166) can be purchased through retailers worldwide, including Barnes and Noble and Amazon. The paperback retails for $17.98 and the ebook retails for $2.99. Review copies and interviews are available upon request. The author can be contacted via email at [email protected]
About the book:
Our monetary system is insane! That's the premise of Repo Madness, a book not meant for scholars, analysts but for you, the person who has been kept in the dark about the shadow banking system. Understandable and informative, this book is also irreverent, never missing an opportunity to underscore the absurdity of it all. You will learn how shadow banking evolved into what it is today, an out-of-control massive system that sucks the lifeblood out of our economy. You will bear witness to participants who in rare moments of candor admit the system is broken and comes at great cost. Years of research have resulted in the most compelling evidence you will find anywhere that the shadow banking system does not benefit society. Solutions of comparable size and scope are out there! Remedies that empower all of us in determining our financial lives and in turn, serve the greater good.
About the author:
M.E. Tuthill was born and raised outside of Boston, Massachusetts. A graduate of Boston College with a BA in American History she went on to earn two master's degrees, an MA from the University of Maryland in American Studies and an MS from Syracuse University in Communications. A self-described "perpetual student," she worked for ten years as a radio news anchor and reporter. Family obligations precluded her moving to advance her career. It was time for a change.
For the next 13 years she would work as a financial advisor also penning a financial planning column for the local paper. Eventually the rough and tumble of the securities business took its toll and she embarked on a third career as a full-time financial writer. Her employer was iMoneyNet, the go-to place for money-market mutual fund data. Over 11 years she wrote hundreds of stories for the firm's flagship publication, "Money Fund Report." She also wrote for other publications, all related to money market funds.
Hired in 2006, initially the work was uninspiring. What can you say about money-market mutual funds? Then came the financial crisis and everything changed. What had been a job writing about sleepy money-market funds turned into a journey deep into the recesses of shadow banking. For money-market funds played an integral role in the financial meltdown that dwarfed all others.
Tuthill was hooked. She wanted to learn everything about shadow banking and as the days, weeks, months, and years passed, amassed hundreds of articles, scholarly papers, marketing material from the banks and government reports. Laid off in 2017, Tuthill found herself with boxes and boxes of material. Her first task was to organize it by subject. Then, she continued to pursue her research. The result is "Repo-Madness: A Simpleton's Guide to the Street's Wicked Ways."
In addition to her writing experience, Tuthill is also a poet. Authoring a book titled, "The Linen Man & Other Poems."
Recently, Tuthill left her home state of Massachusetts, moving over the border, she now resides in South Windsor, Connecticut.
Media Contact
Company Name: MindStir Media LLC
Contact Person: Jen McNabney
Email: Send Email
Phone: 800-767-0531
Address:1 New Hampshire Ave Suite 125
City: Portsmouth
State: NH
Country: United States
Website: https://mindstirmedia.com/