Glioblastoma Pipeline Assessment, 2023 Updates | In-depth Insights into the Emerging Drugs, Latest FDA, EMA, and PMDA Approvals, Clinical Trials, and Treatment Outlook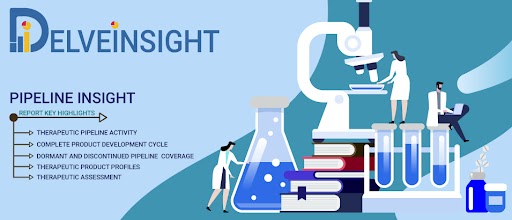 (Las Vegas, Nevada, United States) As per DelveInsight's assessment, globally, Glioblastoma pipeline constitutes 100+ key companies continuously working towards developing 100+ Glioblastoma treatment therapies, analysis of Clinical Trials, Therapies, Mechanism of Action, Route of Administration, and Developments analyzes DelveInsight.
"Glioblastoma Pipeline Insight, 2023" report by DelveInsight outlines comprehensive insights into the present clinical development scenario and growth prospects across the Glioblastoma Market.
The Glioblastoma Pipeline report embraces in-depth commercial and clinical assessment of the pipeline products from the pre-clinical developmental phase to the marketed phase. The report also covers a detailed description of the drug, including the mechanism of action of the drug, clinical studies, NDA approvals (if any), and product development activities comprising the technology, collaborations, mergers acquisition, funding, designations, and other product-related details.
Some of the key takeaways from the Glioblastoma Pipeline Report:
Companies across the globe are diligently working toward developing novel Glioblastoma treatment therapies with a considerable amount of success over the years.
Glioblastoma companies working in the treatment market are J INTS BIO, Curtana Pharmaceuticals, Prelude Therapeutics, OX2 Therapeutics, Polaris Group, Crimson Biopharm, CNS Pharmaceuticals, MimiVax, Berg, LLC, Ascletis, Denovo Biopharma, Celgene Corporation, and others, are developing therapies for the Glioblastoma treatment
Emerging Glioblastoma therapies such as – IN 001, CT 179, PRT3645, CD200AR L, ADI-PEG 20, CM93, Berubicin, SurVaxM, BPM31510, ASC40, Enzastaurin, Marizomib, and others are expected to have a significant impact on the Glioblastoma market in the coming years.
In January 2023, A clinical update from the ongoing Phase I trial investigating INB-200 in patients with newly diagnosed GBM was released by IN8bio, Inc., a clinical-stage biopharmaceutical firm researching novel gamma-delta T cell treatments, along with pipeline targets for 2023. In the first results from Cohort 2 of the Phase 1 INB-200 trial in newly diagnosed glioblastoma multiforme (GBM), all three patients outlived the median progression-free survival (PFS) of seven months, with two continued responses extending beyond 1.5 years and 1.2 years progression-free, respectively. Cohort 3 will be fully enrolled in the Phase I trial by the company, and it also intends to disclose more data and topline outcomes with longer-term follow-up
In September 2022, TCAN-2409 was given an orphan drug designation (ODD) by the European Medicines Agency (EMA) Committee for Orphan Medical Products for the purpose of treating glioma patients. In numerous ongoing clinical trials, CAN-2409 is being tested for high-grade gliomas, non-small cell lung cancer, pancreatic cancer, and prostate cancer
Get a Free Sample PDF Report to know more about Glioblastoma Pipeline Therapeutic Assessment-
https://www.delveinsight.com/sample-request/glioblastoma-pipeline-insight
Emerging Glioblastoma Drugs Under Different Phases of Clinical Development Include:
JIN 001: J INTS BIO
CT 179: Curtana Pharmaceuticals
PRT3645: Prelude Therapeutics
TVB2640: Ascletis Pharma
Trabedersen: Oncotelic Therapeutics
Selinexor: Karyopharm Therapeutics
Onfekafuspalfa: Philogen
AZD1390: AstraZeneca
YTX7739: Yumanity Therapeutics
CD200AR L: OX2 Therapeutics
ADI-PEG 20: Polaris Group
CM93: Crimson Biopharm
Berubicin: CNS Pharmaceuticals
SurVaxM: MimiVax
BPM31510: Berg, LLC
ASC40: Ascletis
Enzastaurin: Denovo Biopharma
Marizomib: Celgene Corporation
Route of Administration
Glioblastoma pipeline report provides the therapeutic assessment of the pipeline drugs by the Route of Administration. Products have been categorized under various ROAs, such as
Oral
Parenteral
Intravitreal
Subretinal
Topical
Molecule Type
Molecule Type
Products have been categorized under various Molecule types, such as
Monoclonal Antibody
Peptides
Polymer
Small molecule
Gene therapy
Product Type
Glioblastoma Pipeline Therapeutics Assessment
Glioblastoma Assessment by Product Type
Glioblastoma By Stage and Product Type
Glioblastoma Assessment by Route of Administration
Glioblastoma By Stage and Route of Administration
Glioblastoma Assessment by Molecule Type
Glioblastoma by Stage and Molecule Type
DelveInsight's Glioblastoma Report covers around 100+ products under different phases of clinical development like-
Late-stage products (Phase III)
Mid-stage products (Phase II)
Early-stage product (Phase I)
Pre-clinical and Discovery stage candidates
Discontinued & Inactive candidates
Route of Administration
Further Glioblastoma product details are provided in the report. Download the Glioblastoma pipeline report to learn more about the emerging Glioblastoma therapies
Some of the key companies in the Glioblastoma Therapeutics Market include:
Key companies developing therapies for Glioblastoma are – NeOnc Technologies, Merck Sharp & Dohme LLC, Regeneron Pharmaceuticals, Cellectar Biosciences, OncoSynergy, Inc, WPD Pharmaceuticals, CellabMED, Alpheus Medical, Inc., Eli Lilly and Company, Xynomic Pharmaceuticals, Inc., Celldex Therapeutics, Sumitomo Pharma Oncology, Inc., Curis, Plus Therapeutics, Mateon Therapeutics, BioMimetix, Oblato, Inc, PTC Therapeutics, Lee's Pharmaceutical Limited, Nuvation Bio, Inc., Laminar Pharmaceuticals, Basilea Pharmaceutica, Aadi, LLC, Erimos Pharmaceuticals, Istari Oncology, Angiochem, Epitopoietic Research Corporation, Oblato, Inc., Novartis, Candel Therapeutics, Chimerix, Onxeo SA, SonALAsense, Kintara Therapeutics, Kazia Therapeutics, VBI Vaccines, Lantern Pharma, and others.
Glioblastoma Pipeline Analysis:
The Glioblastoma pipeline report provides insights into
The report provides detailed insights about companies that are developing therapies for the treatment of Glioblastoma with aggregate therapies developed by each company for the same.
It accesses the Different therapeutic candidates segmented into early-stage, mid-stage, and late-stage of development for Glioblastoma Treatment.
Glioblastoma key companies are involved in targeted therapeutics development with respective active and inactive (dormant or discontinued) projects.
Glioblastoma Drugs under development based on the stage of development, route of administration, target receptor, monotherapy or combination therapy, a different mechanism of action, and molecular type.
Detailed analysis of collaborations (company-company collaborations and company-academia collaborations), licensing agreement and financing details for future advancement of the Glioblastoma market.
The report is built using data and information traced from the researcher's proprietary databases, company/university websites, clinical trial registries, conferences, SEC filings, investor presentations, and featured press releases from company/university websites and industry-specific third-party sources, etc.
Download Sample PDF Report to know more about Glioblastoma drugs and therapies
Glioblastoma Pipeline Market Drivers
Rising incidence of Glioblastoma multiforme, improving Healthcare Infrastructure• Demand for New and Effective Drugs are some of the important factors that are fueling the Glioblastoma Market.
Glioblastoma Pipeline Market Barriers
However, aggressive nature of GBM and the complexity of targeting the central nervous system, the current standard of care for patients with newly diagnosed glioblastoma has limited effectiveness and a second line has not been established and other factors are creating obstacles in the Glioblastoma Market growth.
Scope of Glioblastoma Pipeline Drug Insight
Coverage: Global
Key Glioblastoma Companies: J INTS BIO, Curtana Pharmaceuticals, Prelude Therapeutics, OX2 Therapeutics, Polaris Group, Crimson Biopharm, CNS Pharmaceuticals, MimiVax, Berg, LLC, Ascletis, Denovo Biopharma, Celgene Corporation, and others
Key Glioblastoma Therapies: IN 001, CT 179, PRT3645, CD200AR L, ADI-PEG 20, CM93, Berubicin, SurVaxM, BPM31510, ASC40, Enzastaurin, Marizomib, and others
Glioblastoma Therapeutic Assessment: Glioblastoma current marketed and Glioblastoma emerging therapies
Glioblastoma Market Dynamics: Glioblastoma market drivers and Glioblastoma market barriers
Request for Sample PDF Report for Glioblastoma Pipeline Assessment and clinical trials
Table of Contents
| | |
| --- | --- |
| 1 | Glioblastoma Report Introduction |
| 2 | Glioblastoma Executive Summary |
| 3 | Glioblastoma Overview |
| 4 | Glioblastoma- Analytical Perspective In-depth Commercial Assessment |
| 5 | Glioblastoma Pipeline Therapeutics |
| 6 | Glioblastoma Late Stage Products (Phase II/III) |
| 7 | Glioblastoma Mid Stage Products (Phase II) |
| 8 | Glioblastoma Early Stage Products (Phase I) |
| 9 | Glioblastoma Preclinical Stage Products |
| 10 | Glioblastoma Therapeutics Assessment |
| 11 | Glioblastoma Inactive Products |
| 12 | Company-University Collaborations (Licensing/Partnering) Analysis |
| 13 | Glioblastoma Key Companies |
| 14 | Glioblastoma Key Products |
| 15 | Glioblastoma Unmet Needs |
| 16 | Glioblastoma Market Drivers and Barriers |
| 17 | Glioblastoma Future Perspectives and Conclusion |
| 18 | Glioblastoma Analyst Views |
| 19 | Appendix |
| 20 | About DelveInsight |
*The Table of Contents (TOC) is not exhaustive; the final content may vary. Refer to the sample report for the complete table of contents.
About DelveInsight
DelveInsight is a leading Business Consultant and Market Research firm focused exclusively on life sciences. It supports Pharma companies by providing comprehensive end-to-end solutions to improve their performance. It also offers Healthcare Consulting Services, which benefits in market analysis to accelerate business growth and overcome challenges with a practical approach.
Media Contact
Company Name: DelveInsight Business Research
Contact Person: Gaurav Bora
Email: Send Email
Phone: 8774225362
Address:27 Drydock Ave S. Jones Blvd #2432
City: Boston
State: MA
Country: United States
Website: https://www.delveinsight.com/consulting/asset-prioritizaton-services