Rasperi Launches Orthopedic Dog Beds To Provide Orthopedic Pressure For Dogs' Ankles
The company will also be matching 5% of its profits and donating it to dog shelters in need across the United States.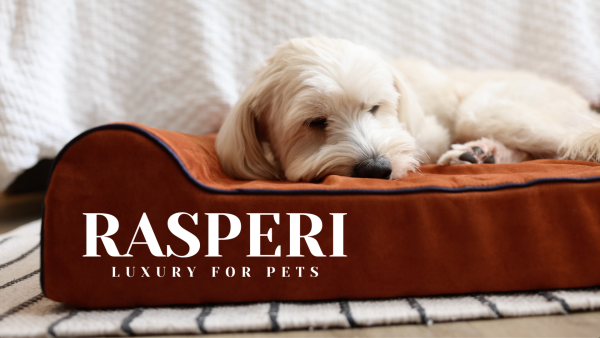 Rasperi, the luxury brand for dogs, is thrilled to announce the release of its brand new product, the Rasperi orthopedic dog bed. This memory foam dog bed is designed to relieve orthopedic pressure for dogs' ankles, ensuring they get the support and comfort they need for a good night's sleep.
Rasperi developed its orthopedic dog beds because the company believes every dog deserves a cozy, supportive place to sleep. Each bed is manufactured from premium materials with a supportive foam core to relieve pressure points and offer orthopedic support. Rasperi's orthopedic dog bed also has a plush, soft cover that is long-lasting and simple to clean.
Rasperi, however, is more than just a high-end dog brand; we have a mission to make the world a better place for dogs. Because of this, we match 5% of our earnings and give it to dog shelters nationwide that are in need. We are dedicated to doing our part to ensure that every dog has access to a secure, loving home.
In the words of Rasperi's CEO, "We know that a good bed can make a huge difference in a dog's overall health and happiness, and we are committed to providing that to as many dogs as possible. We are confident that by offering sturdy, supporting goods like our orthopedic dog bed, we can significantly improve the lives of both dogs and their owners. Additionally, we may assist even more needy pets by donating to dog shelters." He added, "We have a vision – to create a better world for dogs. So, if you want to provide your pet with the best sleeping conditions possible, the Rasperi orthopedic dog bed is ideal. Our bed is made to offer the ideal amount of support and comfort, whether you have a tiny or a medium-sized dog. Help us make the world a better place for dogs today."
Learn more at: www.tryrasperi.com
For updates, follow Rasperi on Socials Media:
https://www.facebook.com/tryrasperi
https://www.instagram.com/tryrasperi
https://www.tiktok.com/@tryrasperi
Media Contact
Company Name: Rasperi: Luxury for Pets
Contact Person: Joseph Kim
Email: Send Email
City: Irvine
State: California
Country: United States
Website: www.tryrasperi.com